Leveling the Paying Field
Institutions choosing McGraw Hill's ALEKS platform find that the results far outweigh any savings that might be possible with OER alternatives.
Professors Sandra Clarkson and Bill Williams have been running an introductory undergraduate statistics course at Hunter College of The City University of New York (CUNY) since 1995. This year, Clarkson says she's less stressed than she's ever been at this point in a semester. After an attempt to work with Open Educational Resources (OER) to save money, she adopted McGraw Hill's ALEKS online learning platform and found that it was not only affordable, it serves her students and instructors better than any teaching materials Hunter has used in the past.
"I don't get the complaints I used to get," Clarkson says. "My instructors are happy with it. And my ALEKS students are finishing with better grades. I'm very pleased."
The road to Clarkson's contentment took some detours. The OER experiment seemed promising at first. She found solid materials from a reputable provider, but soon found that they did not meet the varying needs of faculty and students. "I have about 800 students a semester and 20-some instructors, some of whom have experience, some don't" she explains "so we really struggled for a year."
Other OER options just didn't meet Hunter's standards. The statistics program that Clarkson oversees is required for students going on to majors like nursing, psychology and human biology. An algebra background is required, but of course first-year students arrive with varying levels of experience, and OER solutions proved difficult to adapt to that reality.
After deciding OER wasn't working for her students, she chose ALEKS and a platform by another publisher, to see which yielded the best results. "After each semester," she recalls, "all of my instructors who had used ALEKS wanted to stay with it, and the instructors who had used the other program were willing to change."
"Students liked it, too. ALEKS moves them forward. They don't have to choose what they're going to do next, they're sort of funneled into what they're ready to learn. And over the past two semesters, with the sudden required movement to totally online courses, the difference in the two programs and the approach has become clearer."
Last semester, 78 percent of the students using ALEKS finished with a C or better, compared to 68 percent of those using the other program — which Clarkson is now phasing out. (Incidentally, both pass rates are higher than they were when CUNY was using OER materials.)
Clarkson attributes the higher success rates in part to what she and the instructors can see through actionable insights and reporting on the instructor side of ALEKS, making it easy to see which students need attention.
"We can look at an individual student and see exactly how much time they've spent on something," she explains. "We can see how they're studying, whether they're watching the videos, reading instructions, going to the text. We can see in real time which ones are lagging behind and which ones are not doing the work at all. It makes keeping up with student progress a lot easier. We can send them an email to say 'come see me' and go over it with them one on one."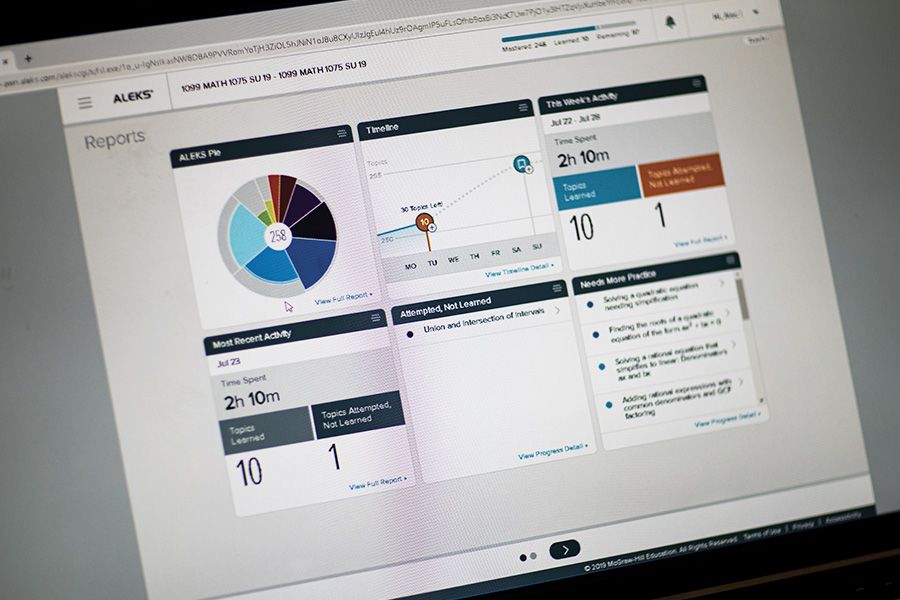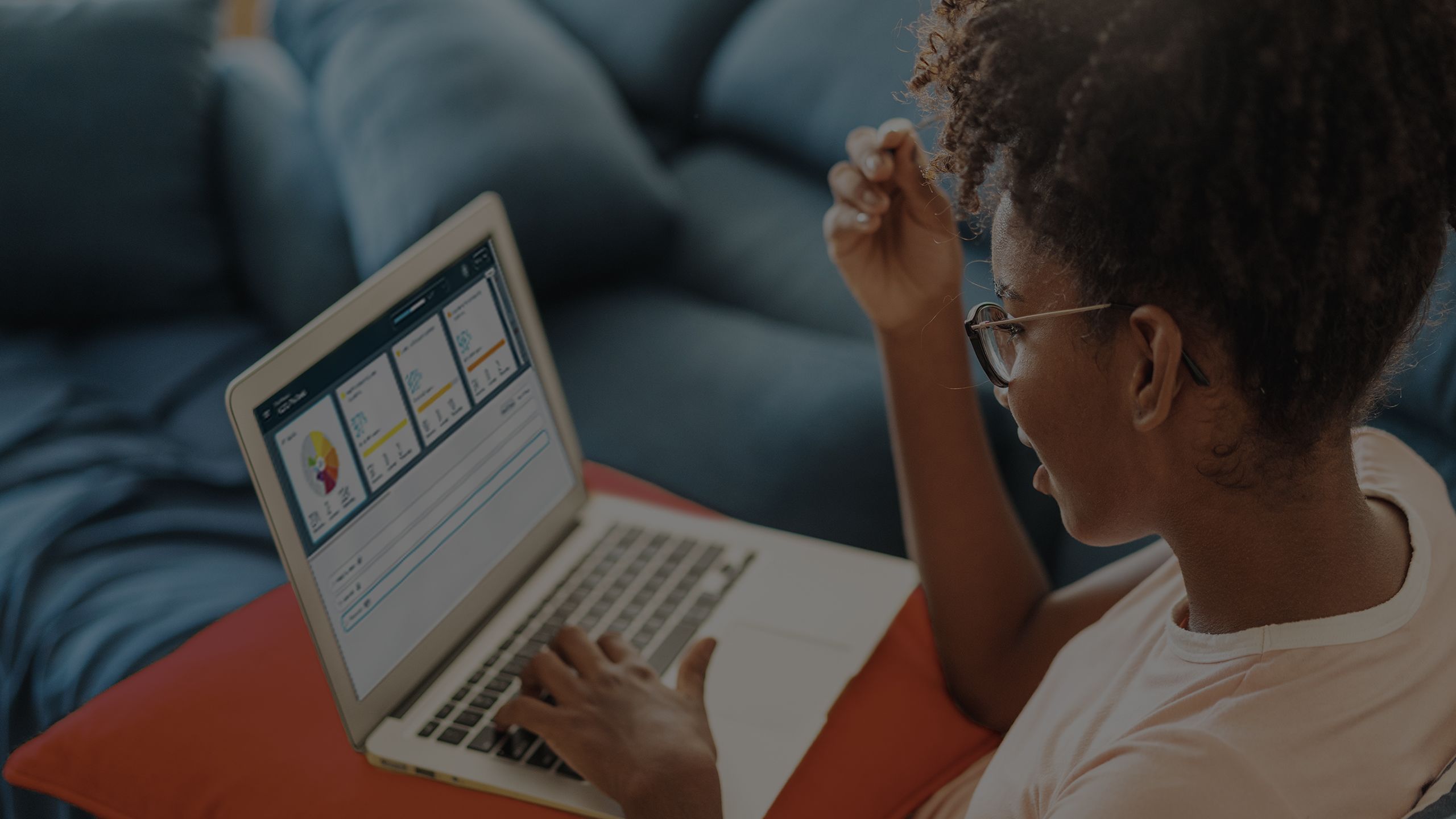 Proven Courseware Platforms backed with years of research & usage
All of this is possible in a platform like ALEKS because ALEKS has benefitted from years of investment and years of learning science behind it. A rigorous development process, based on faculty and student use and feedback, has allowed for refinement of the content and enhancement of the platform foundation while also allowing it to evolve with growing faculty and student needs that are difficult for OER to meet.    
"In demanding STEM areas like math and chemistry, there are high failure rates that become significant barriers for students pursuing STEM careers. In this age of tight funding and growing pressure to raise student performance and success, faculty have to judiciously choose their tools for their students. It is great to have a wide range of OER offerings given the low cost or free price; however, what true costs are faculty and students alike paying by using materials or platforms without a proven track record? A platform like ALEKS does have some cost up front, but considering the costs of paying tuition again for retaking required courses, I want to give my students the best proven chance of success." Jason Overby, College of Charleston, Associate Professor of Chemistry.
Closing gaps and improving retention
Hunter is not the only institution to see outcomes improve dramatically with the ALEKS platform.
In the early 2010s, the three-year graduation rate for first-time, full-time students at Columbus State Community College in Ohio was just 8 percent. Lower-income students and students of color were disproportionately left behind. Columbus State President Dr. David Harrison worked with administrators and faculty on a complete overhaul of the school's approach to teaching math, which included implementing ALEKS and adjusting the developmental math sequence from five courses to three.
By 2018, Columbus State's overall course completion was nearly 74 percent, up from 67 percent in 2012. In the same period, the course-completion gap between White and Black students fell from 22 percentage points to 13.7 points. The retention gap plummeted, from 15 points to 3. In 2019, Columbus State received the Leah Meyer Austin Award, the Achieving the Dream Network's highest honor for institutional success in reducing inequity.
ALEKS's personalized, "just-in-time" delivery of the materials each student needs has been a part of the Columbus State success story.
"Students come to class as active learners," says Associate Professor Jessica Lickeri, "and we are empowered to answer those questions more effectively, to be active and immediately be responsive to students in class. I am also profoundly struck by how much more confident the students are. It's incredible."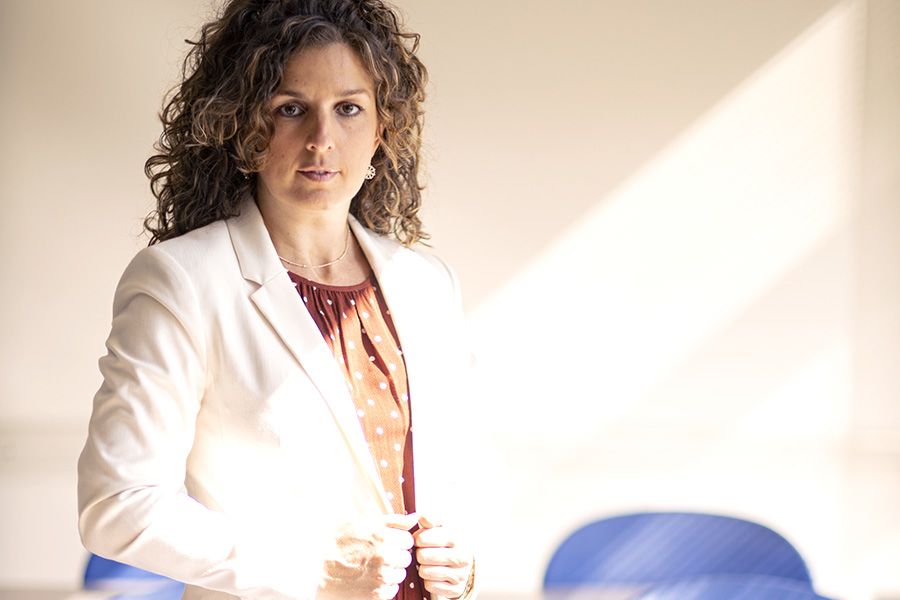 In 2013, Arizona State University faced similar challenges. Even with support, students who'd placed into the lower-level math course were struggling when they moved on to algebra. Pass rates had stalled at around 60 percent. In 2016, ASU did away with the lower-level math course and moved students directly into algebra, with ALEKS to remediate those who lacked prerequisite skills. Algebra pass rates then increased from 62 percent in 2015 to 67 percent in 2016; to 74 percent in 2017; and to 79 percent in 2018.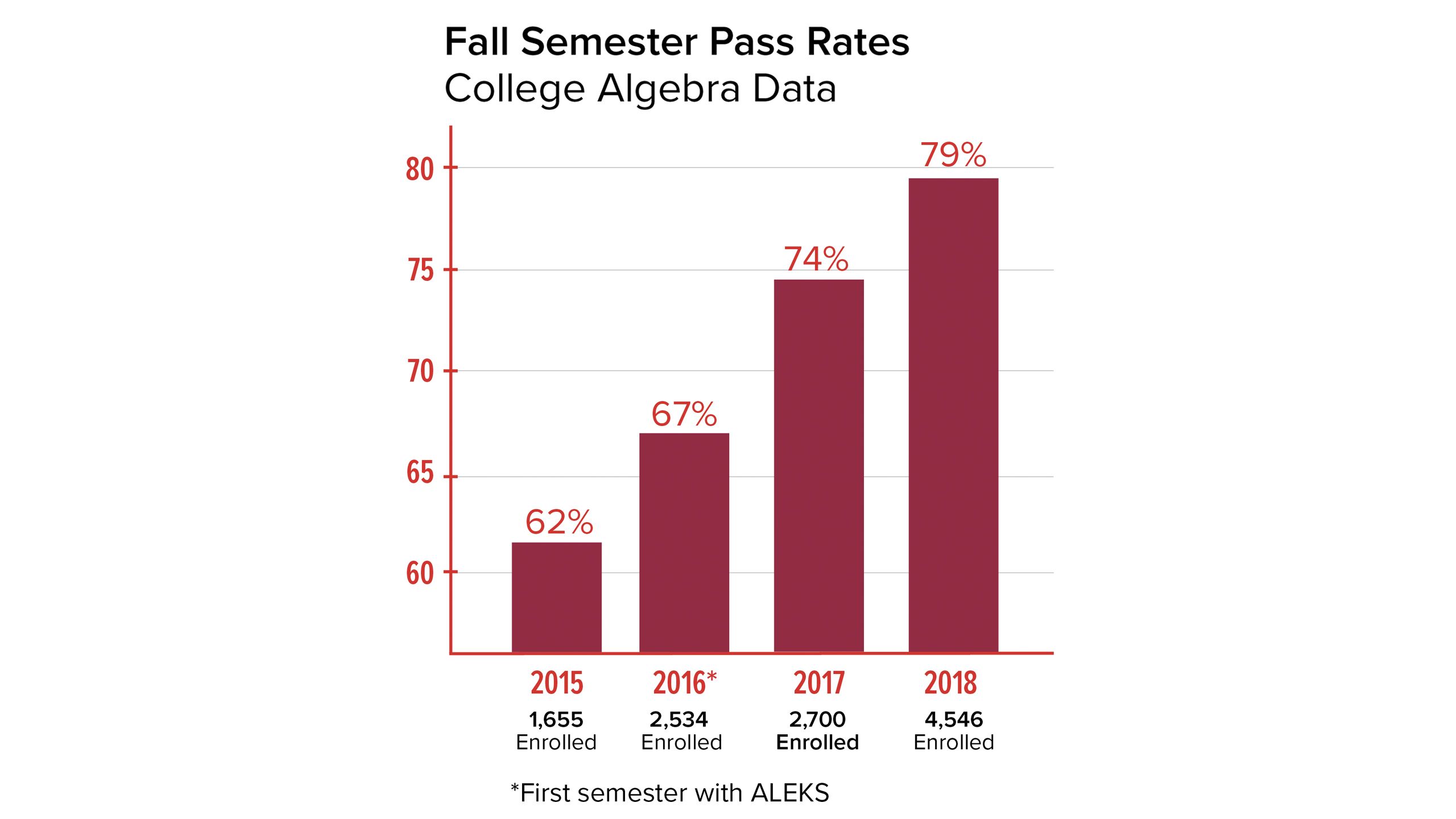 "The ALEKS interface is very intuitive, and the appropriate metrics needed to identify student progress are readily available," says Professor Doug Williams, ASU's Adaptive Learning Coordinator. "These metrics make it very easy for instructors to identify students that are falling behind and then offer them the appropriate level of support to help them be successful."
And by completing in one semester what used to take two, ASU students have saved millions in tuition and course fees.