First Impressions Matter
How TCU's intentional first-year experience bolsters student retention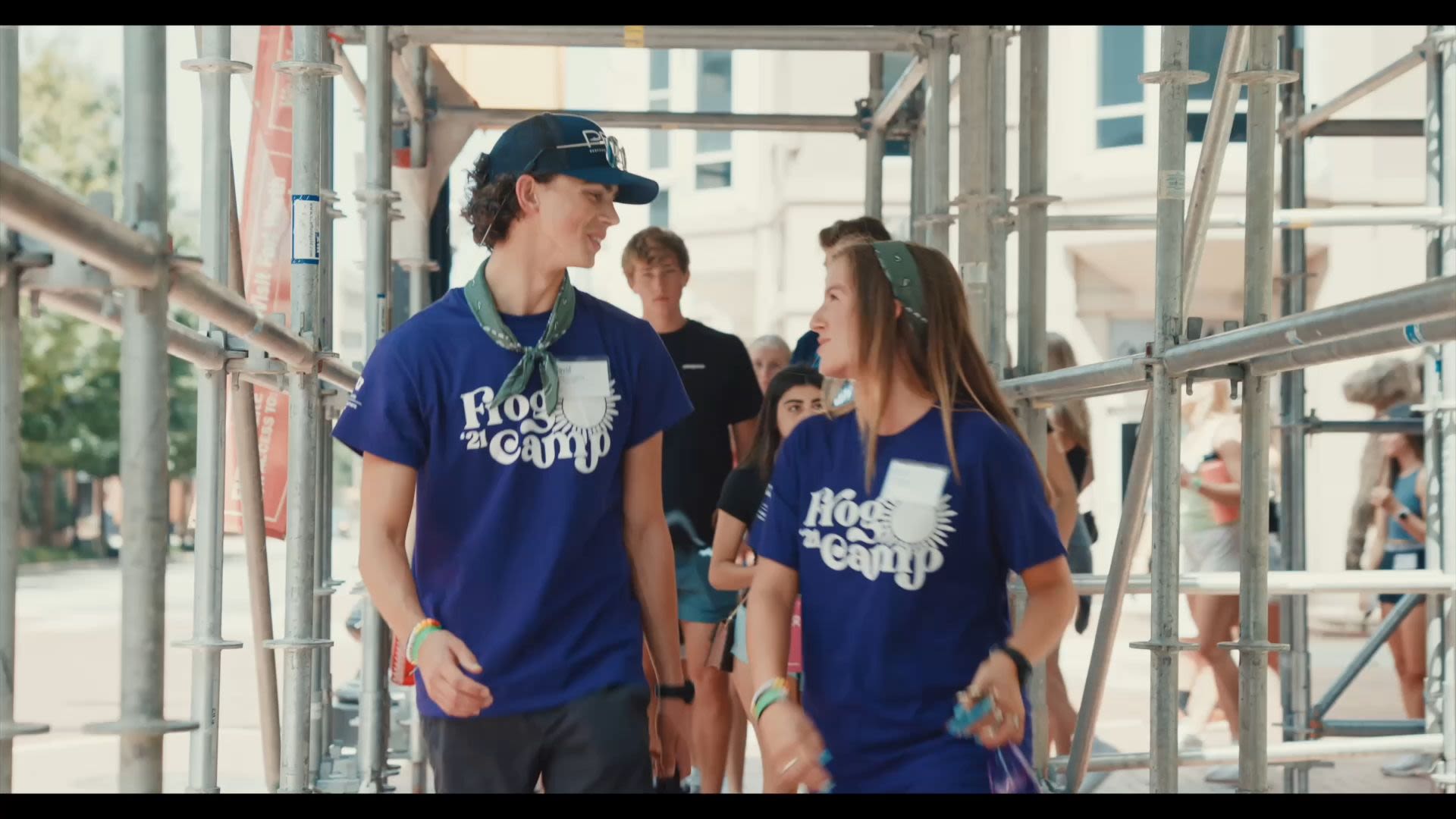 By the time first-year students move into their residence halls at Texas Christian University (TCU), every one of them has connections with several upper-class students, faculty and staff. Most of them are in a group chat with a couple dozen fellow new students they spent time with over the summer. And over the course of the school year, many of them will be invited to occasional informal get-togethers with those new friends just to reconnect.
Relationships are at the heart of TCU's multi-faceted and constantly evolving first-year experience (FYE), which has helped the university achieve a retention rate of 92 percent and a No. 3 quality of life ranking according to The Princeton Review.
"The first-year experience is not one thing. It's not one moment. It's a comprehensive series of steps, from recruitment to admission to orientation and all the way through that first year," says Emily Ivey, Ph.D., Director of New Student and Family Programs.
That series of steps starts as early as Monday at TCU, a full-day campus visit for prospective students, and continues through the transition to sophomore year.
In the summer, TCU hosts a two-day, on-campus orientation, led primarily by students (more on that later). Then there's Frog Camp, a 30-year TCU tradition that focuses on relationship-building and school spirit.
And just before the fall semester starts, there's Frogs First, a series of events in those exciting and potentially overwhelming first few days on campus. The events include common reading discussions, small-group gatherings, a Horned Frog family dinner and the Chancellor's Assembly, a formal welcome into the community that ends with fireworks.
"They're the highlight of the event," Ivey explains. "But the fireworks serve a purpose — they're about building affinity through moments that help students feel welcome.
"And it goes beyond that. It's through saying 'Welcome home' when the student walks into the residence hall, and 'we'll see you soon' when they walk out. All of those pieces create a sense of belonging."
"We call it rolling out the purple carpet," Ivey adds, referring to the coordinated efforts that help incoming students connect with their new community — one moment, one introduction at a time. Even as it celebrates its 150th anniversary, TCU continues to refine its FYE efforts around a few core principles that any institution could adapt.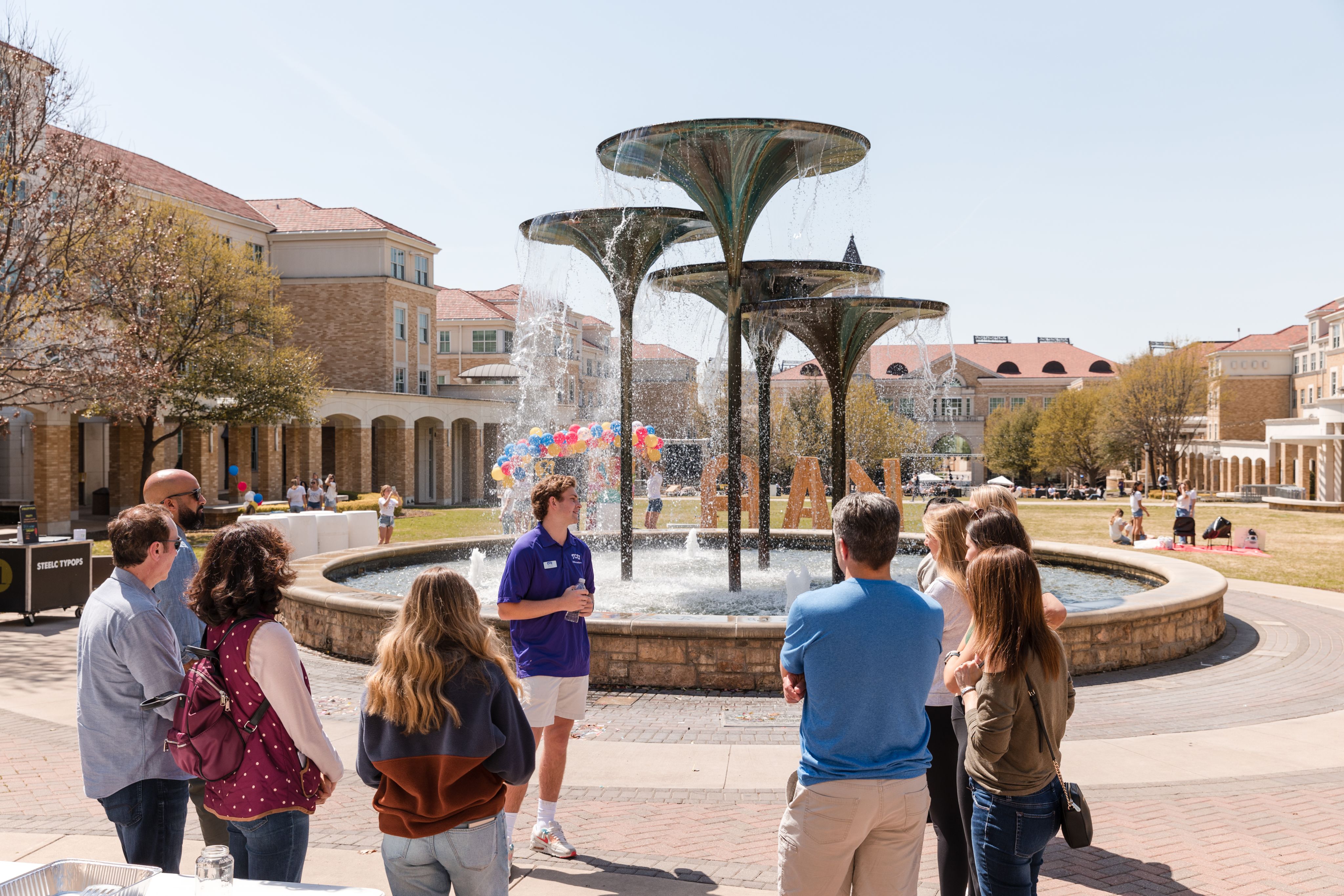 Build relationships first
"We always say that the main goal at Frog Camp is to leave with some sort of connection," says Cedric Garron, who directs the program.
Frog Camps are themed, and there are several options so that students can find one that best suits their interests and meet like-minded people. Some camps are in Texas, some in other states, one overseas, and one in a location that's kept secret until the students arrive at the airport. The tradition is so important to the first-year experience that all in-state camps are free.
Frog Camps include lots of excursions, but plenty of time is left for small-group sessions led by upper-class TCU students. Some of those sessions tackle serious topics, like expectations and phobias, that are part of the research-based student development theory to address instrumental pieces of the transition to college.
"Those conversations really center around who you want to be at TCU," Garron says. "You are coming here as a new student where probably no one knows you. What do you want to get involved with? What type of programs do you want to take advantage of? What's going to be your TCU legacy? And how can we help you become the person that you want to be?"
Though now a senior, theatre major Marielle Wyatt still vividly recalls the camaraderie of orientation and Frog Camp. A couple of months after camp, one of her student leaders invited everyone in the group chat to his small off-campus apartment for a pasta dinner. To this day, she adds, someone will start a discussion in one of those group chats at least once a month.
"Anybody can put you in a random small group and hope you find a friend," Wyatt says, "but TCU intentionally puts you in three separate groups with different people to get you connected before you even start classes. They're promoting that community aspect from the second you get in and giving you as many opportunities to thrive as possible."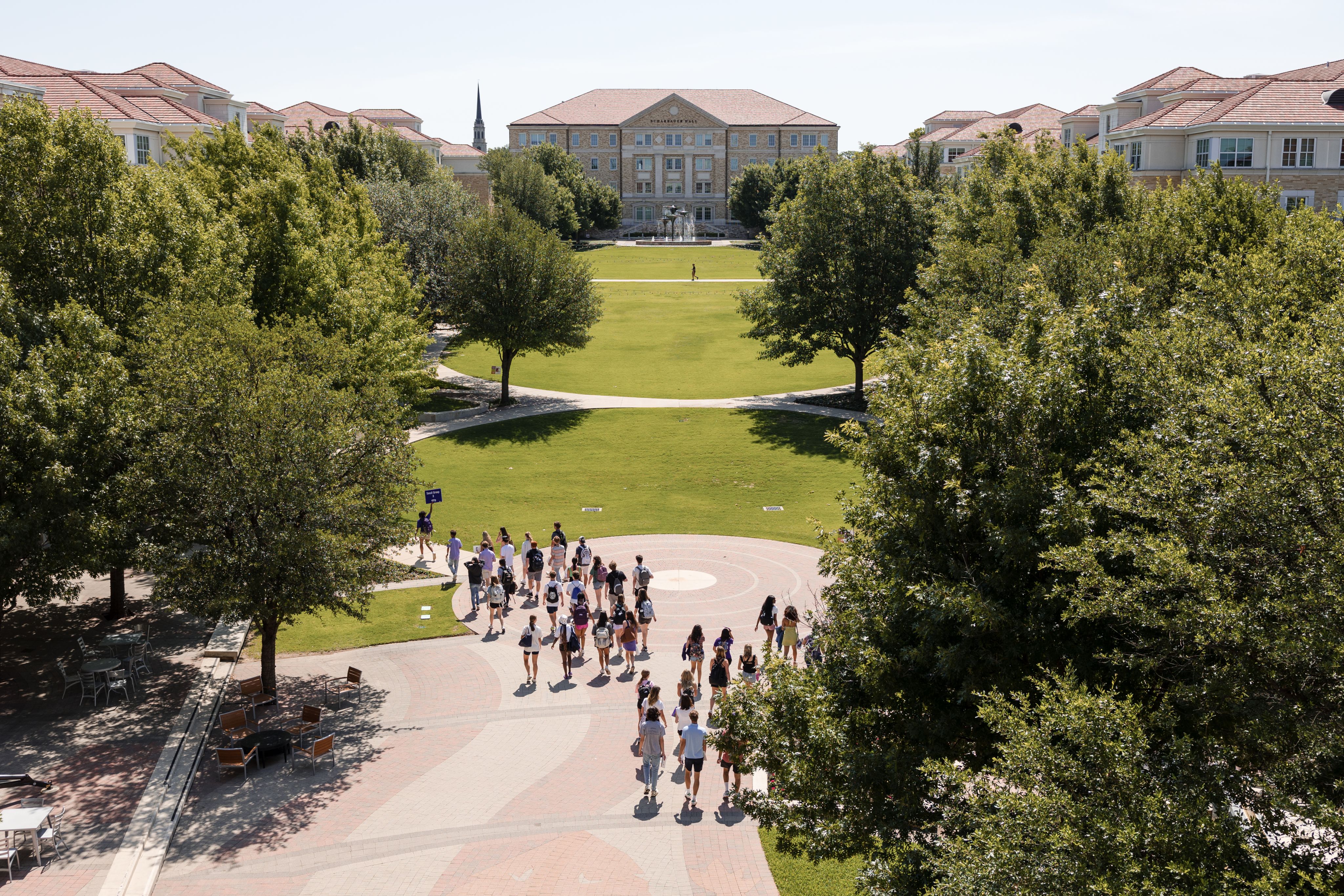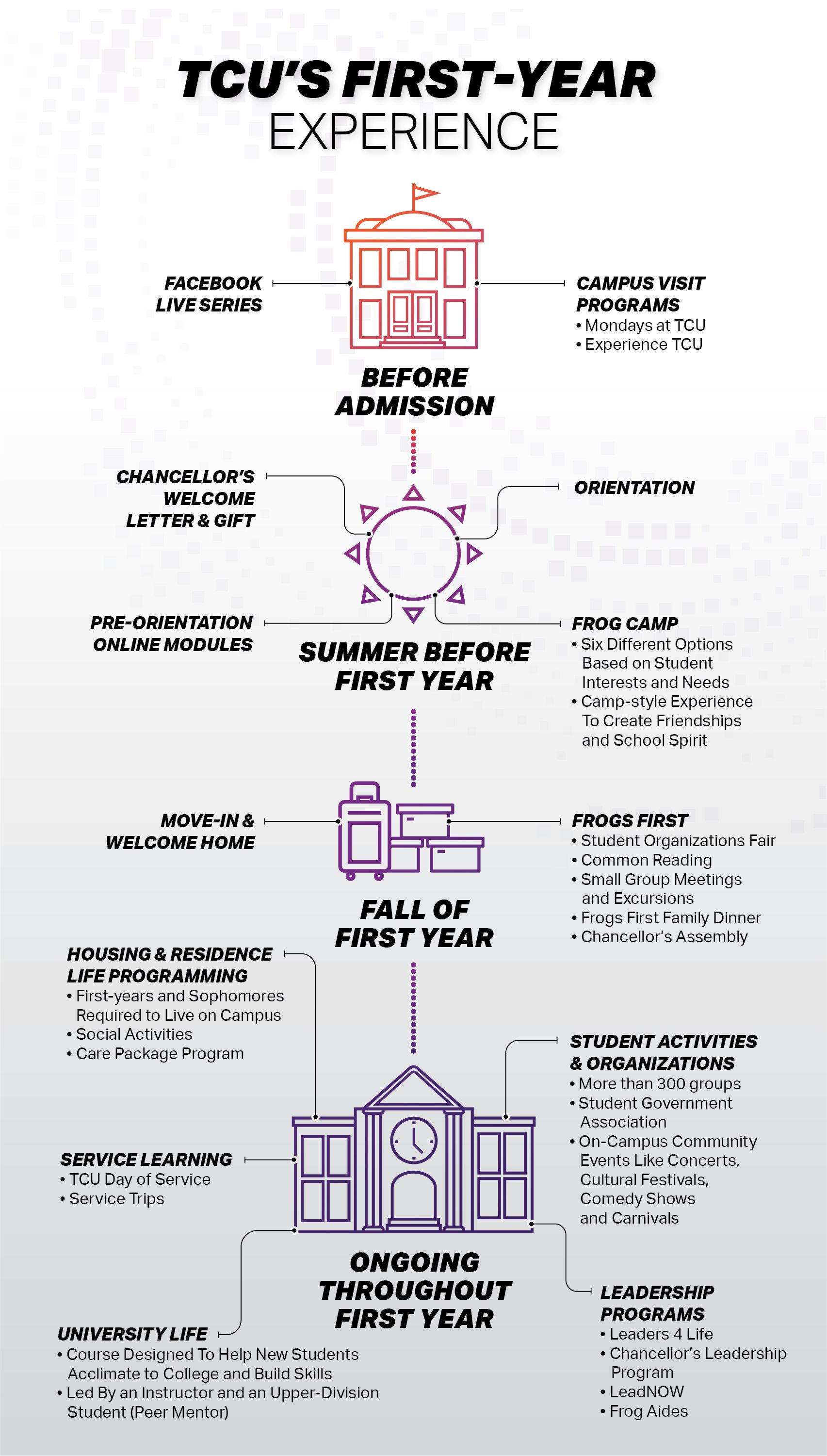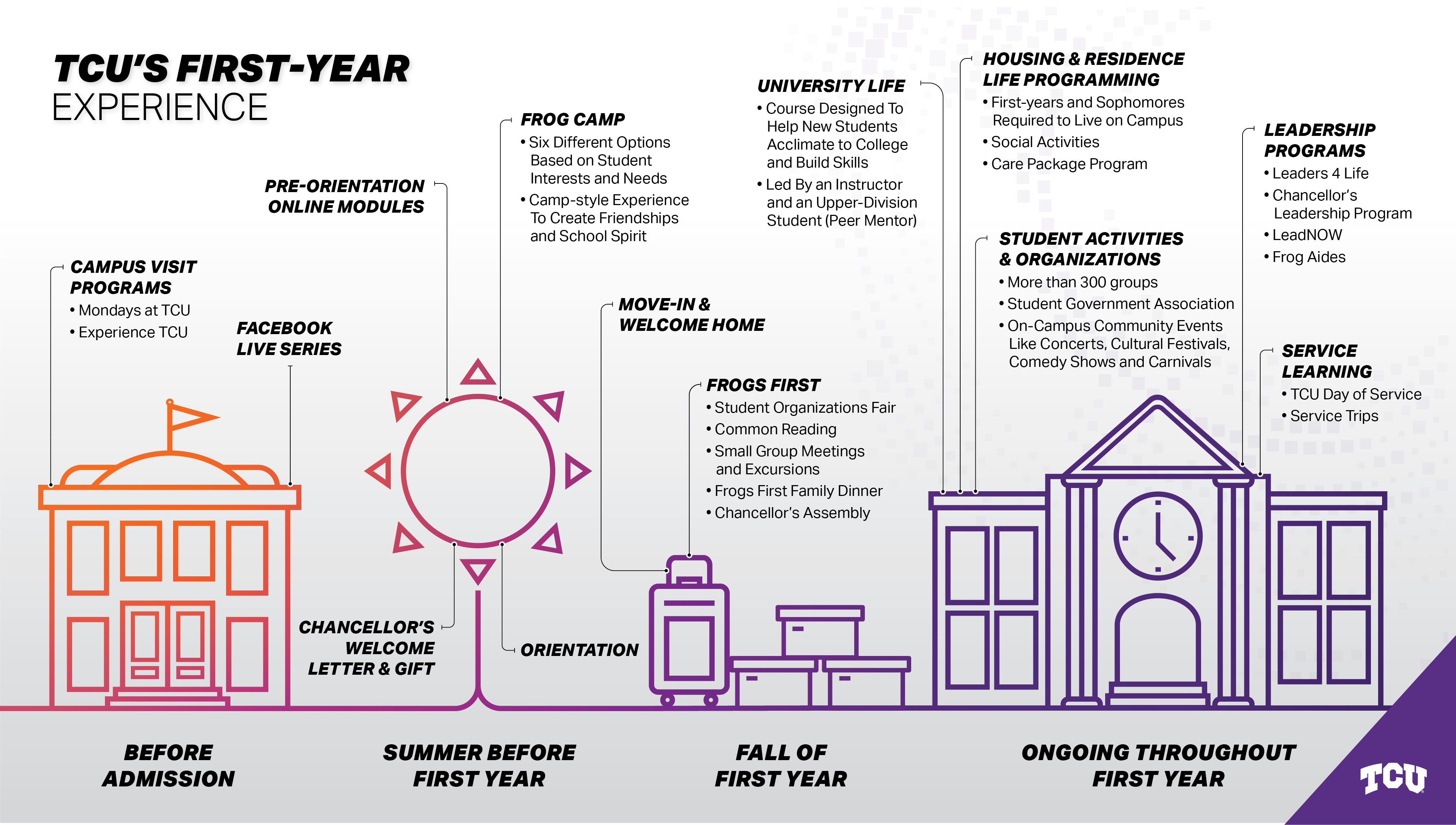 TCU's holistic new student experience starts before admission and continues all the way through the end of their first year.
TCU's holistic new student experience starts before admission and continues all the way through the end of their first year.
Integrate and rely on student leaders
In the spirit of TCU's motto, "Lead On," Wyatt went on to become one of those orientation leaders who made her feel so welcome. Then a Frog Camp leader. Then a Frog Camp director, hiring other leaders and planning entire trips in places she's never been. Now she's the one inviting new students to hang out.
But involving older students isn't just about comfort.
"We know that peer-to-peer education is often the best form for students to learn information," Ivey explains. "That's why the student leaders are really the face of our program. Me standing on stage and talking, sure, they may listen. But that peer-to-peer learning is crucial across the course of this process."
That type of mentorship continues through the first year with the Introduction to University Life, a seminar co-led by a peer guide and a faculty member that covers residence life, student activities and other relevant topics.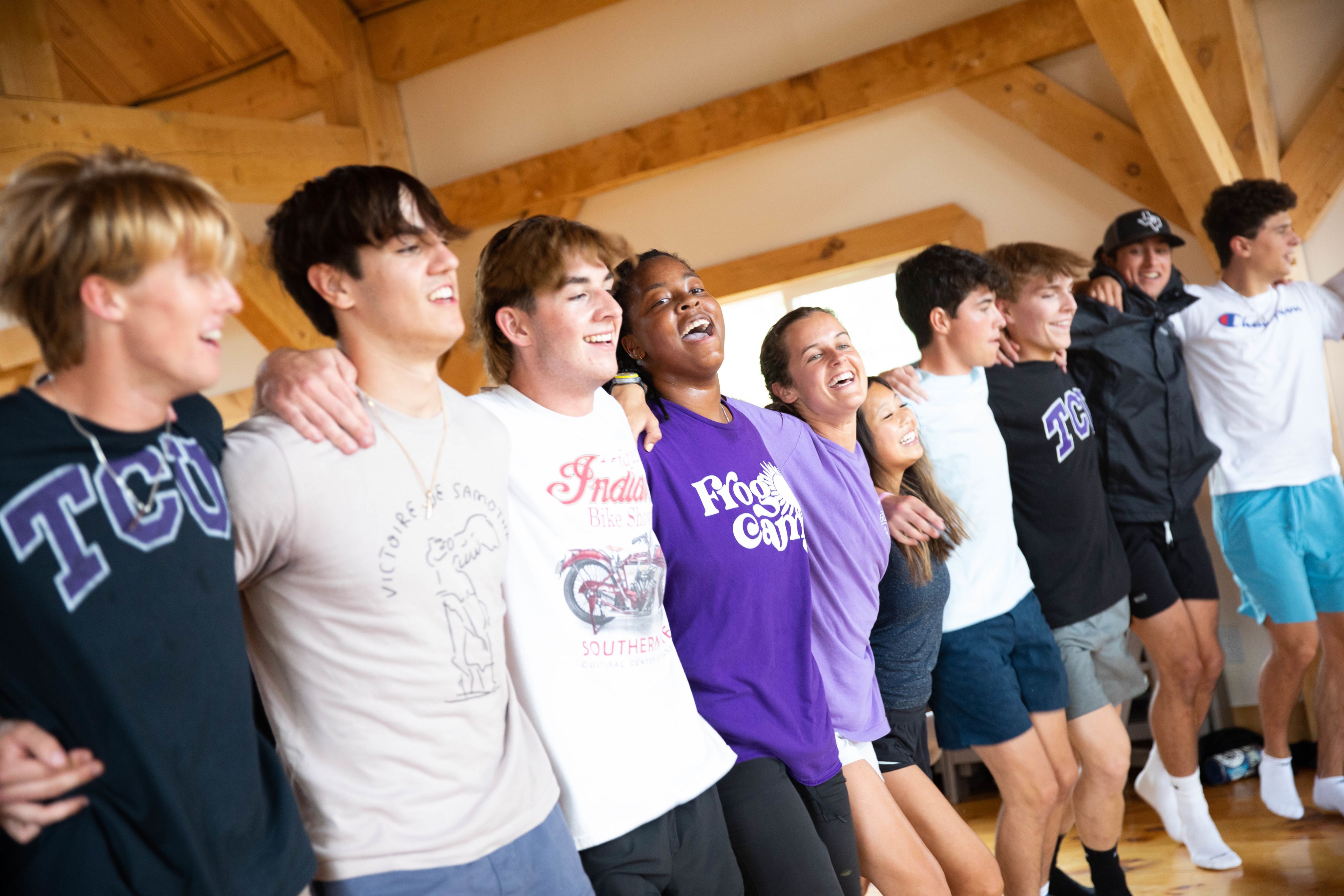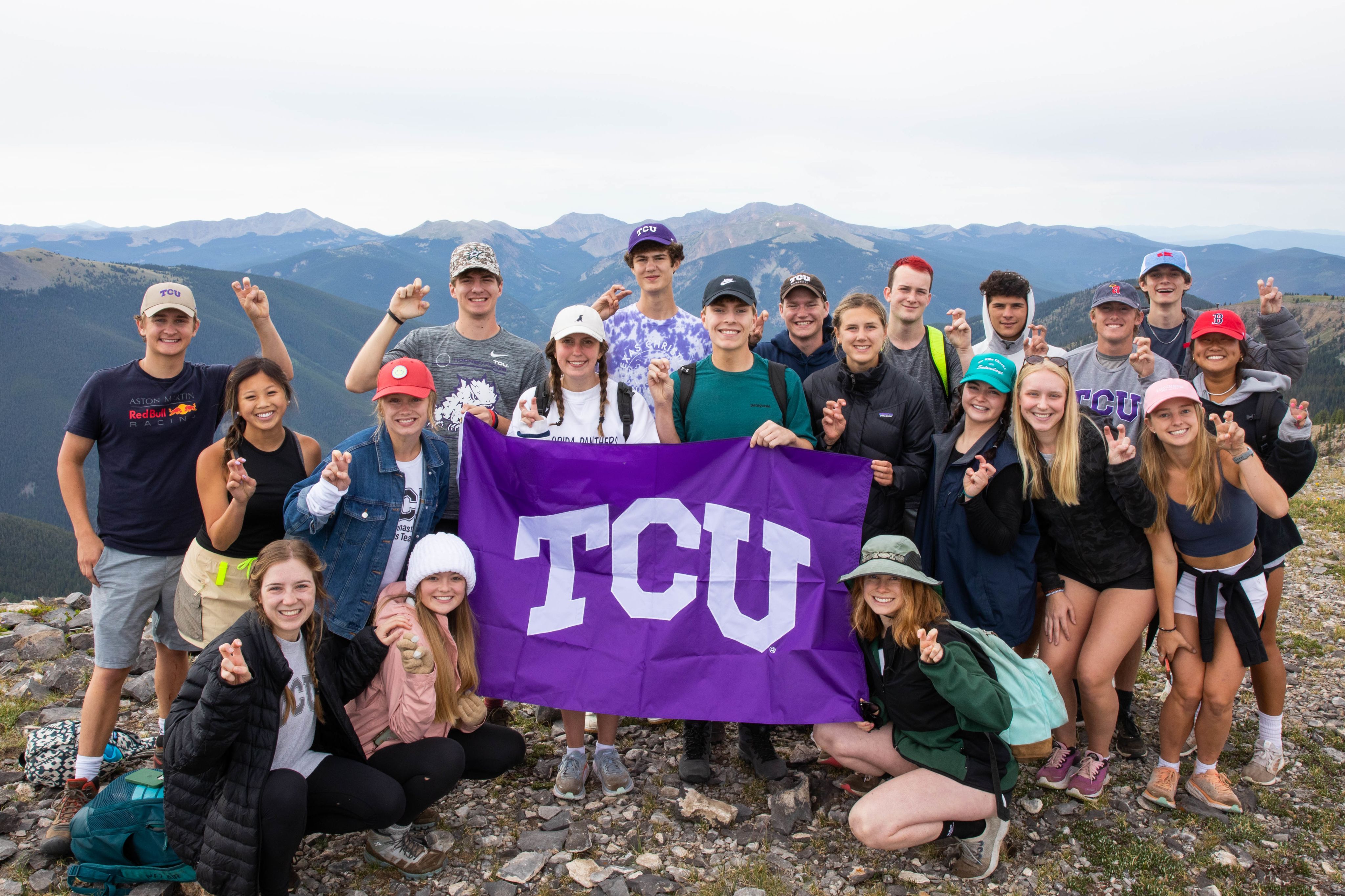 Involve partners from across the campus
When Stephen Lusch, an Associate Professor of Accounting at TCU's Neeley School of Business, was named a Top 50 Undergraduate Business Professor, he was asked what makes him stand out. He cited his participation in Frog Camp.
"This is such an amazing opportunity," he said, "because it allows me to get to know these students on a much more personal level than I would get to in the classroom."
Lusch is just one of many faculty and staff members who serve as Frog Camp partners. Another key is the "Faculty Expectations" orientation session where faculty offer insight for incoming students to be successful in college.
"Faculty involvement at orientation is critical in connecting all pieces of the TCU experience for incoming students," Ivey says.
Ivey says cooperation is simply part of the institution's culture. Faculty and staff also volunteer to help on move-in day and go door-to-door during the first semester to welcome new students and answer any questions they might have.
"We as staff have to build the relationships, so that then we can help the students build the relationships as well," Ivey says. "I share this concept with my colleagues, whether they're inside my department or outside. We are on the same team. We all have the same goal. We want to see our students be successful."
Garron adds that when new students see professors, deans, even the chancellor show up for their events, the message is clear: "The entire university is invested in your success."
Wyatt agrees.
"It creates a sense of belonging. You know that you're not just another student, that there's a reason that you were selected to be a part of the incoming class. And not only that, you have a support system woven into the fabric of the institution. You have people that you can fall back on if that first couple months turns out not to be as rosy as you thought it would be. You've got staff and faculty members in your corner."
Seek feedback to keep improving
TCU asks new students for feedback on their FYE programs, like orientation. Ivey makes it a point to share the resulting qualitative and quantitative data with orientation presenters.
"One of the most helpful parts of that process is learning what frustrated the students," she says. "What did they not like? What did they not understand?"
One oft-stated comment in the last batch of assessments was redundancy in the presentations. To address that, she's organizing a sort of rehearsal for presenters to prepare for 2023 orientation sessions.
"That's going to help us see, first of all, where the redundancy is," she explained. "Also, I think it will strengthen all the presentations because everyone can learn from each other and, let's be honest, everyone ultimately wants to give the best presentation."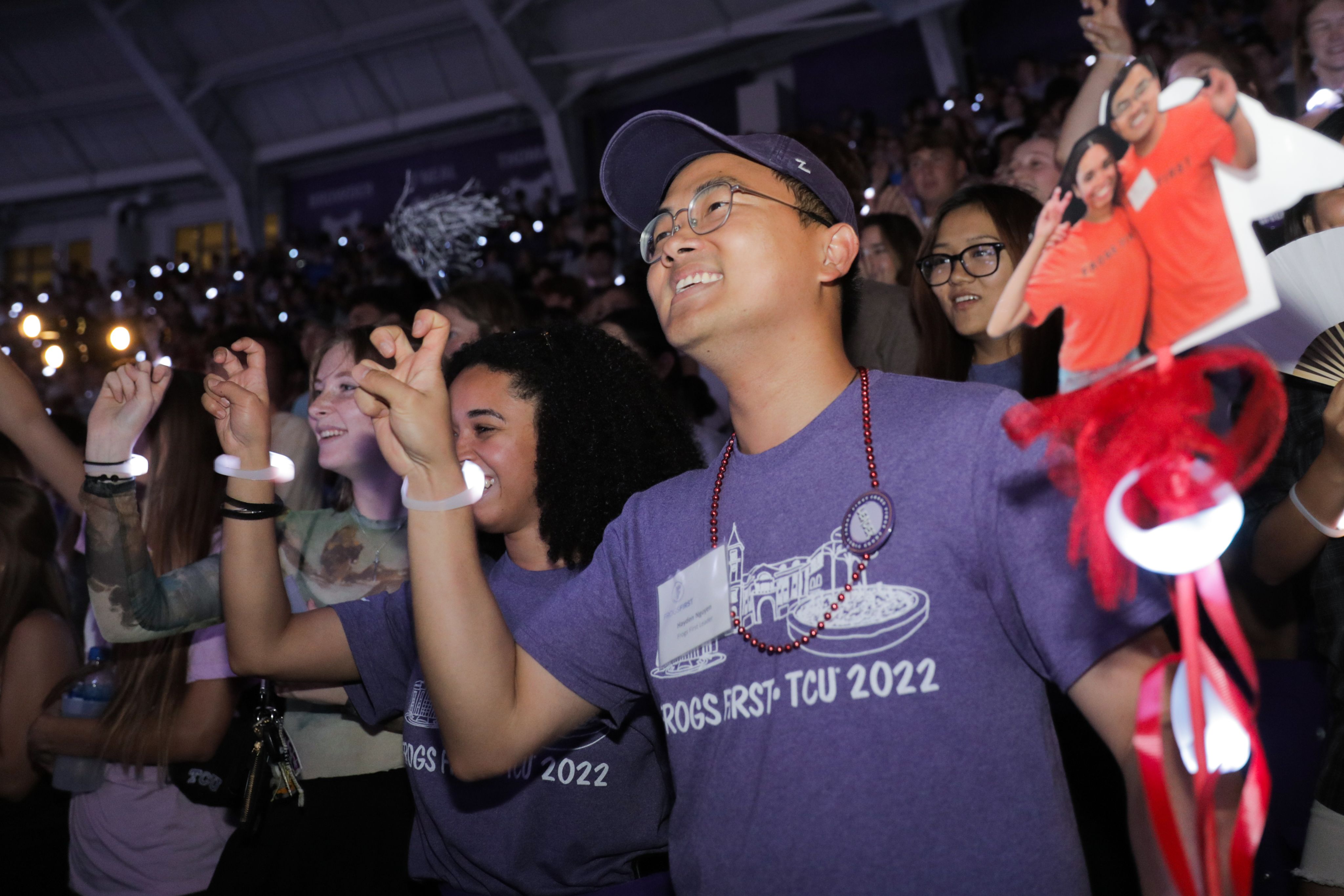 Support from the top makes it all possible
Garron appreciates that TCU leadership embraces the mission of welcoming and supporting first-year students.
"I've been asked to dream big and to always think about what is going to create the most impactful experience for students," he says. "The university support has been monumental in the success of Frog Camp and to allow us to continue to just grow and grow and grow."
"In our profession," Ivey adds, "it can be difficult to balance the needs of multiple constituencies, our students, families, staff, faculty, campus partners, and sometimes even the larger community. But at TCU, it's always the student first, and looking at how we are meeting those needs of the students. This is how we can keep retention rates high for the next 150 years."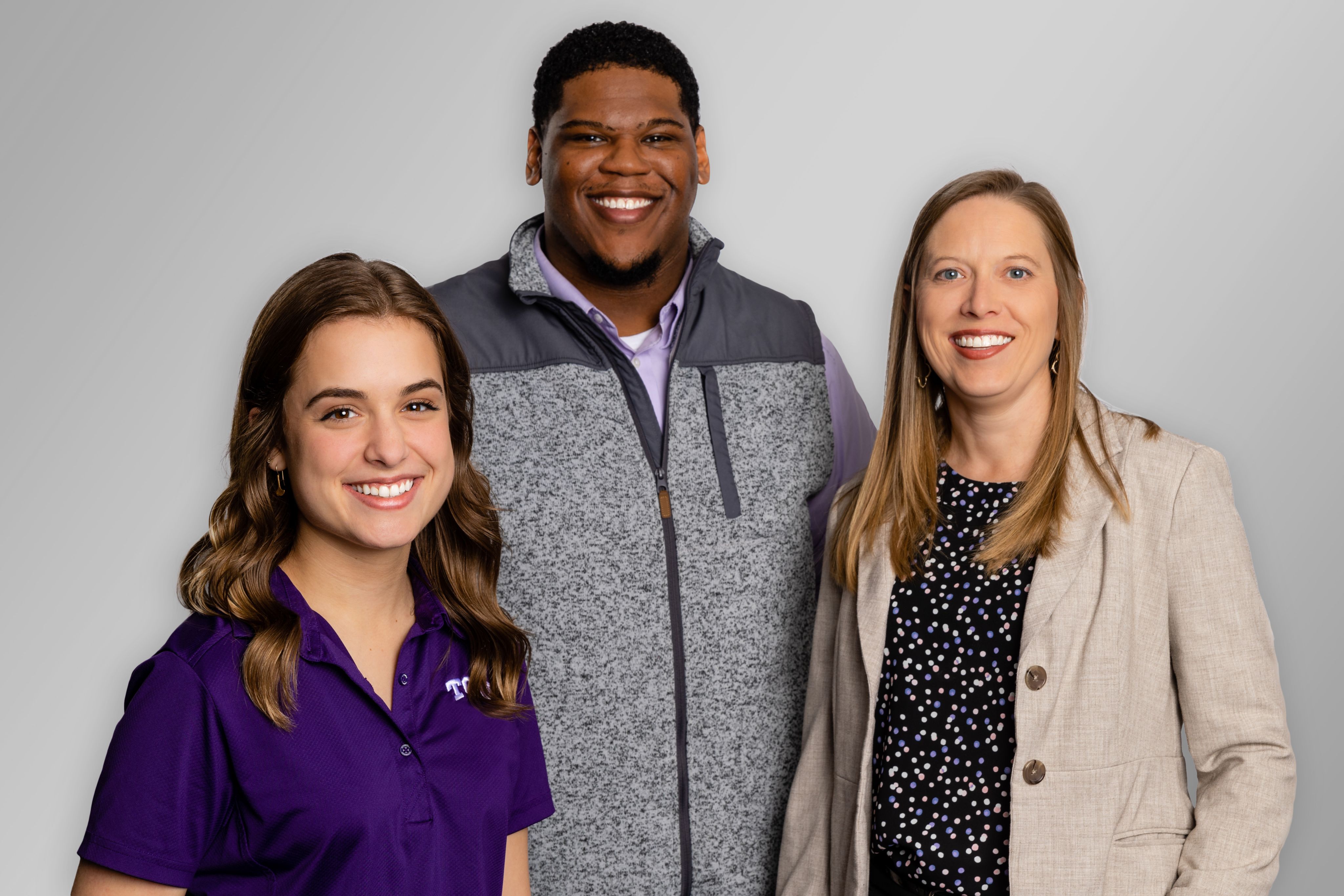 If you're interested in learning more about TCU's first-year experience, email frogcamp@tcu.edu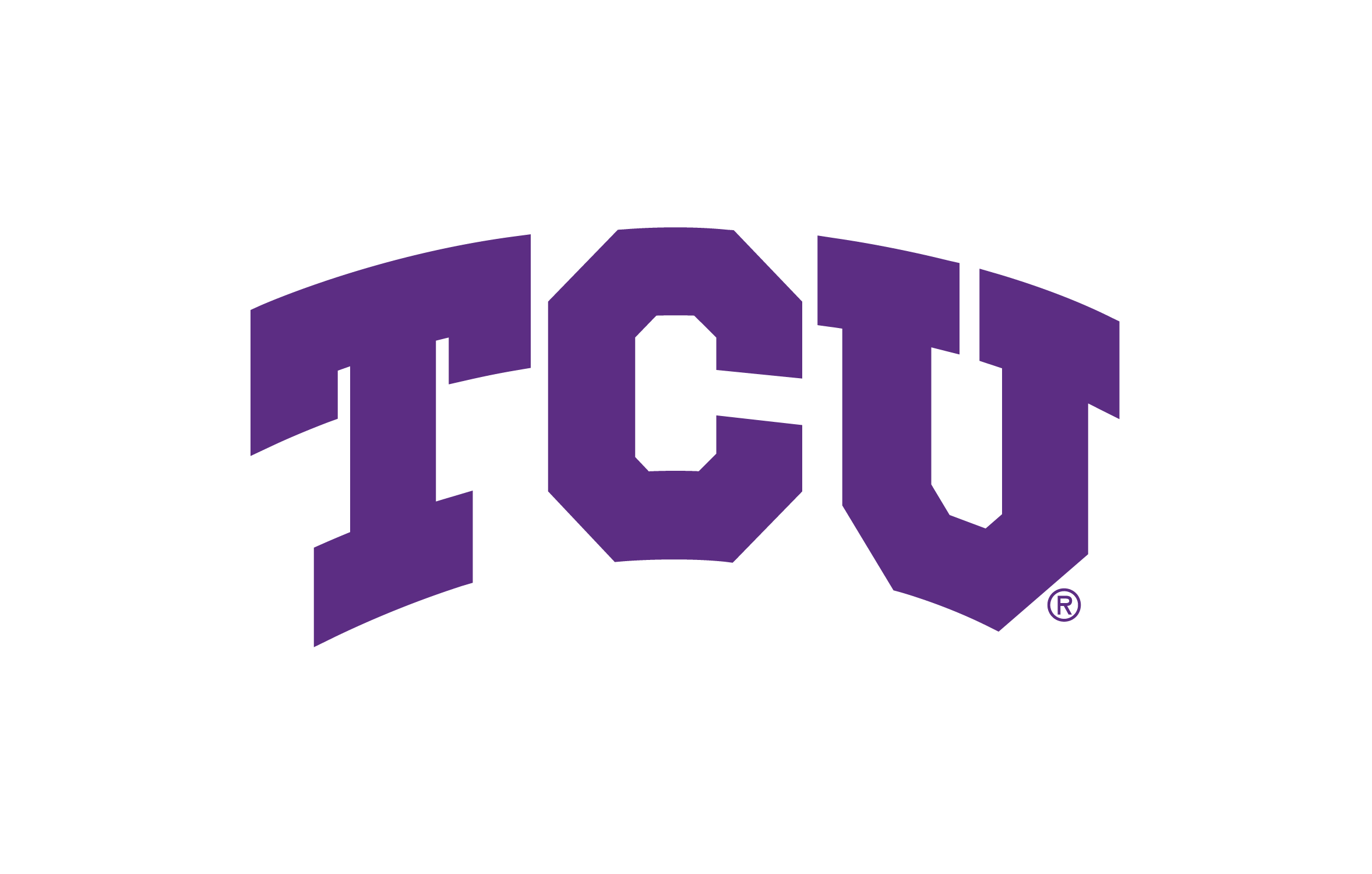 This content was paid for and created by Texas Christian University. The editorial staff of The Chronicle had no role in its preparation. Find out more about paid content.